Chilly Bear - The Feel Better Bear™ is loved by people of all ages. It's a plush, stuffed bear with a warm, happy face. Plus, when someone is hurting or stressed, Chilly Bear - The Feel Better Bear™ can be used as a warm, pliable heating pad (with microwave), or as a flexible, pliable cold pack (chilled in a freezer).
As a pliable heating pad or pliable cold pack, you can form fit Chilly Bear - The Feel Better Bear™ to any part of your body for therapeutic value from your head to your toes.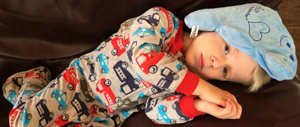 More than a child's best friend chosen by parents, doctors, and healthcare institutions over the past 15 years, Chilly Bear - The Feel Better Bear™ is used by people of all ages to feel better - at home and at the job. It's travel friendly, a bed warmer, fun toy with cute character, and an effective tool for healing when used as a heating pad, cold pack, or companion, whenever and wherever needed.
Chilly Bear - The Feel Better Bear™ comes in three colors (currently pink, blue, and brown). Made in the USA. Includes a 30-day manufacturer's purchase guarantee.

Read Answers to Frequently Asked Questions on our FAQ page.
Order Online: Chilly Bear - The Feel Better Bear!

Useful Health Benefits
As a flexible, pliable heating pad or flexible, pliable cold pack, Chilly Bear - The Feel Better Bear™ is used to safely and effectively target heat or cool, to increase or constrict blood flow, to improve or impede circulation, to relieve stress, swelling, migraines, other headaches, backaches, other aches, pains, bumps, bruises, cramps, stiff necks, sunburns, sinus issues, sports injuries, carpal tunnel syndrome, insect bites, eczema, fever, menstrual cramps, asthma, post radiation cooling, and more.
To use as a Heating Pad or Cold Pack, heat in a microwave or chill in a freezer.
• See three 30-second videos by women who reviewed Chilly Bear - The Feel Better Bear for the 30SecondMom Favorites Awards program in September 2014.

• Below are unsolicited testimonials from Chilly Bear users:
"I saw this Bear about 10 years ago and bought one for my two granddaughters. It has been used for bumps, scrapes, fevers, sprained wrists and everything in between. Both girls run to the freezer to get Chilly when they have an injury, real of imagined. Now I have a new granddaughter and bought one for my son's house, but after this weekend with a one-year old with a fever, I knew I needed one for my house. Chilly has given comfort for years and will for many years to come. This is the BEST COMPANION that any family would ever have!! Thank you for giving us Chilly!!"
- Lynda Rogers (Oregon)
"I thought we would want more, but my husband think 6-8 would be enough for now. But I am sure we will end up needing more in the near future because they have a tendency to fly off our shelf and into the homes of our friends."
- Name Withheld
"My favorite gift was to the midwife who delivered our daughters. We have a 12 year old son, a 9 year old daughter, and a 3 year old daughter - all of whom make regular use of our bears, either the one in the freezer or one of the three sitting near our microwave. Our kids all know that if they take the bear out of the freezer, the must replace it with another bear, or any bears brought to bed must be returned in the morning or a "bear hunt" will be held to locate missing bears... Anyway, our midwife's daughter suffers from migraines, so after our midwife delivered our daughter we gave her a Chilly Bear. Not only does she love it (we are told she still uses it), but it helped her daughter get through many painful migraines."
- Sharon Moerdler-Green
"My kids are 11 and 14. We got an orange Feel Better Bear with Children's Motrin when my oldest was very young. The bear (we call it the get better bear) is still in our freezer and is used often. The boys are still comforted when we ask, "should I get the get better bear?" I want to pass on a LIFE SAVER to my brother and his family. They have a 9 month old and lots of boo-boos ahead. I LOVE OUR BEAR! It is not overstuffed and stays put covering the whole area [on which it is placed]. My youngest can be found walking around with it on top of his head when he has a headache. My oldest loves it for when he has hives. It is not too cold on his bare skin. It is just a GREAT PRODUCT. Thanks!"
- Linda Ferra-Dresmch (Pennsylvania)
"My mom has had a Chilly Bear for years and when i lived with her we would share. Now that I'm on my own, I want one for myself. I thin it is so much better than a bulky heating pad, especially on my neck. Plus, I don't know of any other heating pad that can become an ice pack, too! I'm a huge fan!"
- Danielle Guidi
"I am looking to buy 7-10 Bears as Christmas gifts this year. This is such a great product!! I've had mine for at least 7 years and I still use it all the time (and I'm 27)!"
- Laurie Sanders
"I've been a Chilly Bear user for years! A college girlfriend had a Chilly Bear and I thought it was a great idea so I bought one for myself. I must have bought about 15 bears throughout the years as gifts. People's reactions are so good when they finally realize what I gave them. I now need one for myself because I forgot I gave mine away. I just had surgery on Monday. I need my old faithful Bear to sooth my shoulders from all the best rest and TV watching I've been doing. Thank you!"
- Jason Coveleski (New Jersey)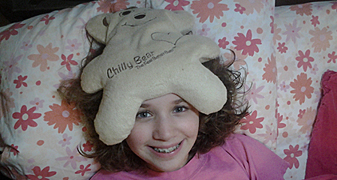 "I think of you every day when my daughter gets Chilly Bear out of the freezer at bedtime!"
- Rena (New Jersey)

Read Answers to Frequently Asked Questions on our FAQ page.